EXACT's bespoke Capital Allowances tracking system EXIGO is referenced in FSB Magazine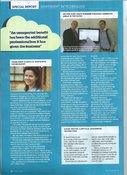 I like to think we are a forward thinking company, and this is proved by the interest which the FSB has in our cloud based solution of our Capital Allowances Claim tracking system.
It is a system developed to combine all areas of our business, from client input, to our field surveyors, to our compliance team, everyone uses our EXIGO tracking system.
Take a look at the article attached.......
Published: 15th June 2013