HMRC Releases Capital Allowances Data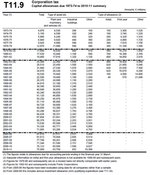 HMRC have released historic data relating to total claims for Capital Allowances.
The statistics highlight the amounts due and demonstrate an increasing trend over the last 30 years for amounts claimed.
The report starts from the 1974/75 year where £4.9Bn of allowances were claimed until the 2010/11 year where this had risen to just over £75Bn, although this was a slight drop on the prior 2009/10 year of £76Bn.
The report shows how influential the prior FYA (First Year Allowances) were on the amounts claimed.
Until April 2008 the government influenced via the yearly Finance Bill the annual 'First Year Allowances'. This had the effect of encouraging business to invest more, if the FYA was increased to say 50%, and thus increasing the total Capital Allowances claimed in a given year.
The current regime does not have the First Year Allowance (FYA) instead the variable is the Annual Investment Allowance (AIA), currently £250,000, and the Writing Down Allowance (WDA) percentages. The AIA was raised from £25,000 to £250,000 on 1st January 2013 and will remain in place until 31st December 2014, a period of 2 years. This increase is designed to cover the majority of businesses annual Capital Investment (90%+) and expected to encourage these business to invest whilst gaining tax advantages through utilisation of Capital Allowances.
I look forward to reviewing the updated tables in the coming years to assess the impact of the increase in AIA.
Source http://www.hmrc.gov.uk/statistics/ct-receipts/table11-9.pdf
Published: 7th May 2013